Here at Raccoon Mountain Caverns, we are passionate about helping groups of all sizes unlock the wonders of our stunning cave systems. Whether you're a school group, Boy Scout troop, church congregation, or any other organization, we are here to create an unforgettable experience. Please give us a call and let us make your group's adventure unforgettable.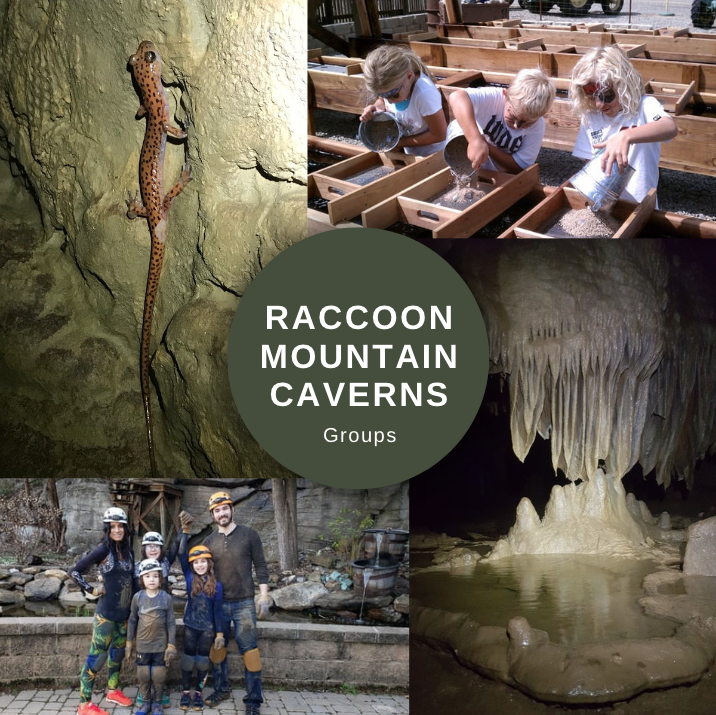 General Info:
Any group larger than four people must call and make a reservation

Groups with children under the age of 10 need to have a child-to-chaperone ratio of 3:1

Groups with children between the ages of 10 -18 need to have a child-to-chaperone ratio of 5:1

Walking tours have a max group size of 15  (We can work with you to send multiple tours) 

Wild Cave tours have a max group size of 10
Looking to plan a group visit to Raccoon Mountain Caverns? We're here to help make your experience memorable and hassle-free. To ensure prompt service, please fill out the group reservation form at the bottom of the page. You can also give us a call at (423) 821-9403 if you have a group of 5 or more. Our friendly team will be happy to assist you with reservations and provide important information to make your visit truly wonderful. Don't wait, book your group adventure today!
Come explore the captivating Raccoon Mountain Caverns on an exciting field trip! Our guided Crystal Palace walking tours will take you through educational and awe-inspiring rooms, where you'll discover the rich history of the caverns and marvel at live ancient geological formations. Watch in wonder as you journey to reflection pools, encountering active stalactites, stalagmites, soda straws, and much more, including the rare shield and helictite formations! Our tours are both fun and educational, suitable for students of all ages.
If you're planning a School field trip, take advantage of our special group rates. These rates are applicable for groups of 15 or more paying guests, Monday-Friday (excluding holidays). Plus, only one person needs to pay for the entire group in advance. So gather your friends or classmates and prepare for an unforgettable adventure at Raccoon Mountain Caverns!
Discover an unforgettable adventure for your Scout group at Raccoon Mountain Caverns! Immerse yourselves in the wonder of live cave formations, encounter captivating cave-dwelling animals, and delve into a world of fascinating knowledge. Don't forget to visit our enticing gift shop and unlock the excitement of panning for gleaming gems. Join us today and mesmerize your senses with an exploration like no other!
How many stairs are in the walking tour?
About 170 stairs spread through the walking tour.
How cold is it in the cave?
The cave stays about 58 degrees year-round. We do recommend a light jacket.
The cave does have wet spots in it year round. It is dryer during spring and summer, and wetter during fall and winter.
Do I need a tour to go into the cave?
Yes,  you need a tour to go into the cave. There is over 5.5 miles of cave, and it is easy to get lost without a guide.
Do I need to set up a reservation?
We highly recommend setting up a reservation over the phone with us so we can guarantee your spot on the tour, but you can also come 10 to 15 minutes before tour time, and we will do our best to set up a reservation. There is no guarantee that we can get you on a tour if you walk in.
We have a Crystal Palace Walking tour (lasts about 45 to 55 minutes), a Canyon Crawl Expedition tour (2 hour crawling tour), and a WaterFall Dome Expedition tour (3 and ½ hour crawling tour).
What's the difference between the Canyon Crawl and the WaterFall Dome tour?
They are similar, but very different. With both tours you are crawling and there's a guide to help you through. Both tours have a max weight limit of 275 pounds, and both require the same attire. The Canyon Crawl lasts two hours, the youngest allowed into that section is 8 years old, and you have to be at least 4-foot 6 inches tall to do that tour. The Canyon Crawl is the easier of the two tours. The canyon crawl has a lot of optional squeezes, but there are options that are more open. The WaterFall Dome tour last 3 and ½ hours, youngest allowed into that section is 12 years old, and you have to be at least 5-foot 4 inches tall to do that tour. The WaterFall Dome is more strenuous and there is a section where you do have to do a body bridge. The squeezes in the WaterFall Dome tour have the options of squeeze or tighter squeeze.
Can I take photos and video in the cave?
Yes, you can take photos and video in the cave. We just ask that you don't use flash photography on our critters as it hurts their eyes. With the videos, all we ask is that you don't record the whole tour.
We do not mine in our cave to preserve it's natural beauty.
Why are there colored lights instead of regular ones?
We have colored lights and timers in our cave because it's easier on our critter's eyes, it stops any unwanted plant growth, it's prettier for us to look at, and it helps keep the cave at it's natural temperature.
Is your cave connected to Ruby Falls?
Our cavern and Ruby Falls was founded by the same man, but our cave systems are not connected